Wonder what it's like in the newsroom on election night? Kasey Carlson, a Mash reporter and sophomore at Whitney Young gives you the lowdown about what she did to help out with election coverage at the Chicago Tribune and for The Mash, and what she found most interesting about the experience.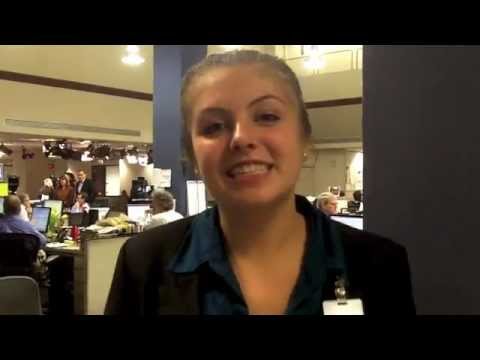 More from Kasey:
The Chicago Tribune is naturally one of the busiest news outlets in Chicago on election night. Between preparing for the paper the next morning and live coverage, you can probably imagine that things would get pretty intense. Throw in six Mash reporters, or the newly-created team name "The Mashed Potatoes" as we decided to call ourselves, and they find out the rush that it creates and reminds them why they want to be journalists one day. Along with five of my peers, I spent election night in the Chicago Tribune newsroom helping out.
In all honesty, I think it was one of the most eye-opening nights of my life. I watched journalists walking back and forth, stressing out and getting frustrated easily and pounding at their keyboards with an intense fury, but it only made me want that life even more. I realized I wanted to live for that adrenaline of being there as the reports came in and as history was being written, practically writing the history books yourselves.
Aside from my own personal emotions and the excitement I felt from being there, there were some pretty interesting moments. For me, the biggest one was probably going on a coffee run. It was a menial task, but because it was for Rick Kogan, it made me feel important. The funnier part was returning with the coffee; he tried to give me the $16 change on his three dollar espresso. Of course I said no, and I laughed when he said, "You're a high school kid, you need it," but I reminded him it was just my job.
So the night was interesting and exciting and I even met some new friends along the way. But above all, I learned some valuable life lessons from those who were in charge: always eat the salad on election night so you don't get sick, journalists are notorious for pouncing on free food, and don't hit my desk when you're walking by.
>> Have a question for Kasey about her experience? Post it below in the comments!
Powered by Facebook Comments