Steffie Drucker, a Mash reporter and senior at Niles North, talks about what it was like to spend election night in the Chicago Tribune newsroom. Hear her talk about how she pitched in with election coverage at the Chicago Tribune and for The Mash, and what she found most interesting about the experience.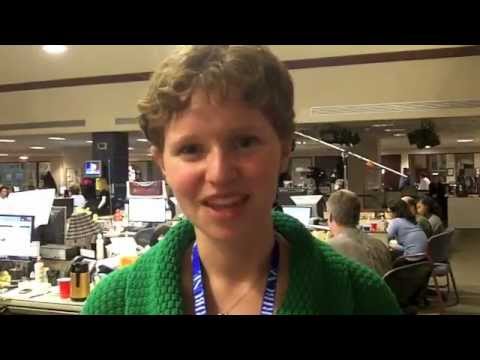 More from Steffie:
As I walked into the newsroom on election night I expected to enter a chaotic scene with people running around, papers flying everywhere and phones ringing endlessly. While there was a buzz of energy in the room, the staff seemed calm and the pandemonium of election night seemed orderly. As soon as we arrived I recognized some important people such as Trib Nation editor James Janega, the Tribune's managing editor Jane Hirt and several members of the editorial board—all people that I've met during my time at The Mash this year.
Throughout the night, we Mashers "wrangled" (held the cord of the camera roaming throughout the newsroom so nobody would trip), escorted guests from the lobby to the newsroom and went on coffee runs for the legendary Rick Kogan. At one point, I found a seat atop a cabinet near the breaking news desk. Watching the election unfold before my eyes on the breaking news desk was my favorite part of the evening.
I watched as reports of networks declaring Obama the winner flooded into the breaking news desk, as the editor-in-chief sprinted past to consult with a political analyst and as a quiet fell over the room during Romney's concession speech. As I walked out of the newsroom around midnight, I saw the design of the next day's front page. Being in the newsroom was a dream come true— both as a political junkie and a high school journalist. It was an incredible experience to work with professional journalists to report such a historic event and hopefully I'll be back in that room for future elections.
>> Have a question or comment for Steffie about her experience? Post it below in the comments!
Powered by Facebook Comments