Yazmin Dominugez, a Mash reporter and senior at Huntley, talks about what it was like to spend election night in the Chicago Tribune newsroom pitching in with election coverage. Hear her talk about how she was involved and what she found most interesting about the experience.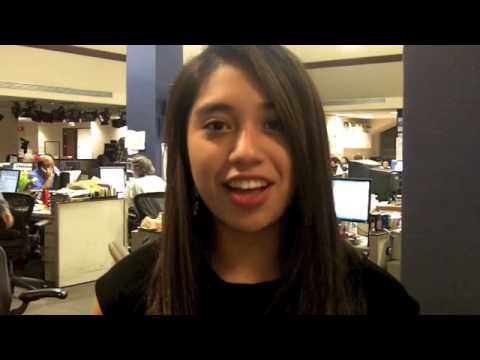 More from Yazmin:
"What a night." This is my exact thought as the election comes to an end. On Nov. 6, I had the great opportunity of helping Tribune Video reporters stream a live webcast of the election night coverage on chicagotribune.com. As an aspiring journalist, I can say this was such an insightful night to be in the newsroom. When viewers turn on their TV sets or watch streaming news online and select a news network to stay informed on election returns and the candidates, it's hard to see or understand how much work is exactly going on in the newsroom.
As a teen reporter, I did not assume the role of a Tribune editor for the night (although I would have loved to) and there were long periods of down time, but simply being in the buzzing atmosphere was thrilling. No, no editor was screaming for the latest results while dramatically throwing papers all over the floor like you might expect because of what you've seen on dramatic TV shows, but the high sense of professionalism that filled the air was intoxicating. Watching journalists checking the websites for returns, writing feverishly, or even taking a quick break for a bite to eat, I gained even more respect for their hard work. Being a teen reporter in Chicago Tribune's newsroom on the Obama vs. Romney election night will be a date I will always proudly remember because rather than sitting at home watching the election unfold on a screen, I was in the midst of action.
I now realize that perhaps during some point, I probably got in some journalists' way; but it goes unnoticed to the pros how much being present in the atmosphere can really excite a teen reporter for their future profession. Helping out with Chicago Tribune's coverage of election night made me remember why I want to be a journalist. Of course, this experience would not have been possible if I weren't part of The Mash, so I have a lot of gratitude for being part of the program and being selected to be part of The Mash's election night team.
>> Have a question or comment for Yazmin about her experience? Post it below in the comments!
Powered by Facebook Comments