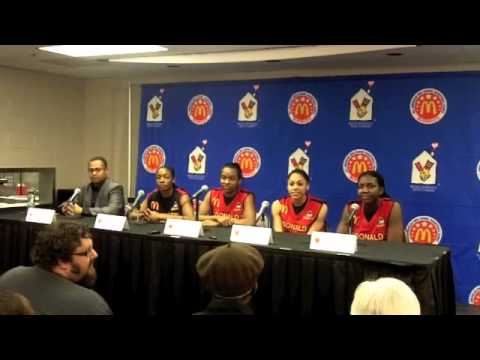 Davis is McDunkulous
By Seth Boster
Huntley
The nation's top-ranked teen hoop stars took the McDonald's All-American court at the United Center on March 30 for one of their last high school matchups of their lives. Afterward, they were brought to a conference room and sat beside each other, before them a flood of reporters.
In the bombardment of questions coming his way, game MVP Michael Gilchrist of St. Patrick in Elizabeth, N.J., provided a couple "um's" like any shy kid would. "You know," he said, "I don't do this media thing."
Not so for Perspectives-MSA's Anthony Davis.
The No. 2 player in the country and Gilchrist's future teammate at Kentucky next season produced a large bellow from his diaphragm. The biggest kid of them all at 6 feet 9 inches laughed and put his oversized hands to his face.
"We all just had a lot of fun," Davis said of Gilchrist and fellow future Wildcats Marquis Teague and Kyle Wiltjer. "We're going to get to college and do the same thing."
During the game, Davis threw down a thunderous slam—a display of acrobatics he couldn't have done as a sophomore two years ago, when he sprouted 10 inches. "I never would have expected to be All-American, no way," he said.
Norfolk (Va.) Christian's James McAdoo was also in a sort of disbelief during the press conference. He shook his head when he recalled contemplating leaving high school early to enroll at North Carolina and start his college career ahead of time.
"It meant a lot coming back," he said. "Missing all this … it would've been the dumbest decision of my life."
The kids were released from the press conference room later, right around midnight. Escorted by security men in suits, they weaved their way through a hallway in the United Center's basement, engulfed by media and flashing lights.
Not surprisingly, the most popular kid was the nation's top-rated Austin Rivers. It was impossible for him to move his lengthy limbs; he was completely surrounded.
He really wished the big-o-tron didn't play his little rap during his Player of the Year montage that was shown during a timeout.
Today I woke up with a mindset that I have to be the best
These dudes coming after me, they don't want this test
Embarrassing, he said. But hey, nothing wrong with confidence, right?
"It's the biggest factor," Rivers said. "(You have to have) no doubt in your mind that you're going to dominate."
Part of that mindset, you could say, catapulted Rivers to the top. The other was a concept his father, Celtics head coach Doc Rivers, ingrained in him long ago: Hard work. "You got to earn everything," Rivers said.
He talked about his work ethic–not his uncanny ability to score at will–being the thing that made him stand out as a player. Three times a day he worked out this season. "Three-a-days," he calls them. "Every day," he said. "Every day."
"People may have misjudged me," he said, "that I get things easy and everything's given to me because of who my dad is, but that's not true. My father raised me like his father raised him."
The younger Rivers is all-business when he talks about playing at Duke next season and his career beyond; the expectations in front of him. His dark eyes are fierce, determined. And then he talks about the All-American weekend and the guys he teamed up with.
There were times, Rivers said, that he laughed so hard his stomach hurt.
Powered by Facebook Comments