Julianne Micoleta
Elk Grove
For many hockey fans like me, the news of the NHL lockout ending was like a version of Christmas morning. The only thing we wanted from Santa was a collective bargaining agreement under the tree.
Though the agreement came (a lot) later than desired, the 48-game season is still a gift. While many fans feel robbed that the 119-day lockout that cut the season in by almost half, I'm very excited at the prospect of a shorter season. The fewer games there are to play, the more every game will count.
Every game will have that playoff atmosphere, and they're sure to be really intense.
And let's be honest, a half season of hockey is still better than none.
Game of the Week
Boys basketball: Marian Catholic at Benet
7:30 p.m. Thursday
No. 4 Marian Catholic, which won its 14th straight game on Saturday, looks to keep the momentum going on a road trip to play No. 8 ranked Benet Academy, making for a must-see matchup of East Suburban Catholic unbeatens.
"The Return"
… of Derrick Rose is rapidly approaching and I can hardly contain my excitement. Watching him participate in a shootaround at Madison Square Garden before the Knicks game on Friday made me even more anxious to see the MVP back in action. Rose is easily one of the most exciting players to watch in the NBA, and his projected return in late February or early March will make for a very dangerous Bulls team. Eastern Conference teams better watch out!
Play of the Week
Last week's play of the week for me was Ravens QB Joe Flacco's 70-yard touchdown pass to Jacoby Jones, or what I like to call "The Throw That Shut Down Twitter." Flacco's bomb silenced the Mile High crowd and helped lead the Ravens to an overtime victory over Peyton Manning and the Broncos. Baltimore advances them to the AFC championship game (vs. New England, 5:30 p.m. Sunday, CBS) for the third time in five seasons. That pass was just the cherry on top of a very exciting game.
Strange Sports
If you're looking to combine extreme sports with household chores then look no further because Extreme Ironing is the sport for you. No, really. The idea is simple: It's ironing, just a little bit more extreme. According to the sports' official website, Extreme Ironing is "the latest danger sport that combines the thrills of an extreme outdoor activity with the satisfaction of a well-pressed shirt." So the next time you go skydiving like the two guys in this video, make sure you bring your ironing board and most wrinkled T-shirt.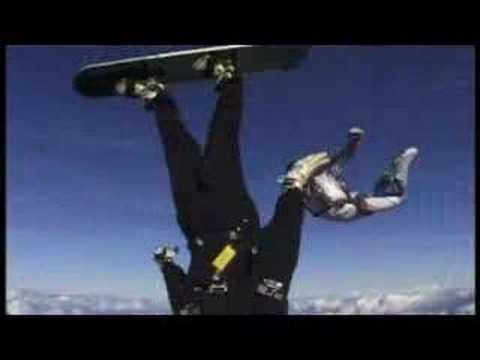 Powered by Facebook Comments